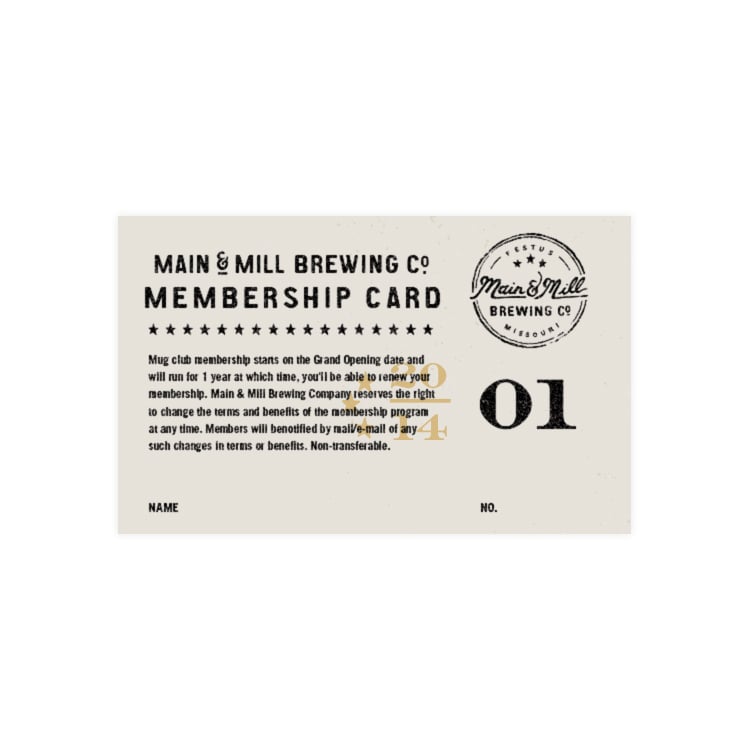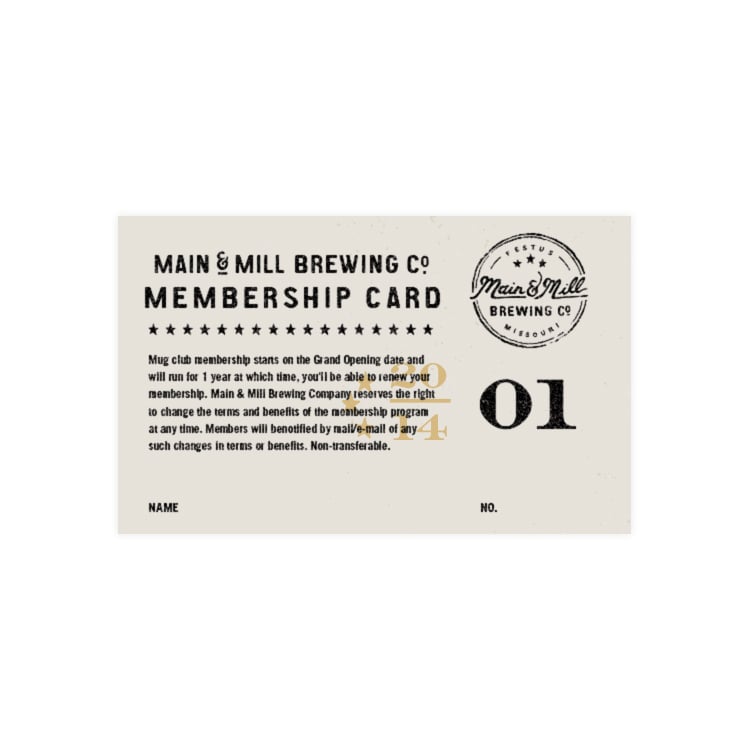 Main & Mill Membership
$75.00 / Sold Out
Main & Mill Membership Benefits/Rules:
Member will help decide our opening day beer lineup along with new brews throughout the year!
We plan to have a member event BEFORE our grand opening date in which we give tours, field questions, and hopefully get to try some of our pilot beers.
Our mug club mugs will be 20 ounces, which gets you 25% more beer than our regular pints at the same cost. This is valid on any beers offered in pint form.
You will enjoy 20% of any beer dinner tickets that you buy throughout the year.
You'll get an exclusive Main & Mill Member t-shirt.
You may have access to food items that are being tested for a future menu.
You'll get a one time coupon for 20% off of merchandise.
You'll be invited to the end of season Main & Mill Membership party which will feature complimentary beer and appetizers!
You will always get 10% off of food and drink.
You will be invited to special tastings of pilot batches and barrel aged beers before they are released to the public. Some of these tastings will be of beers that will never be made again and may never be produced on the larger brewpub scale.
Inaugural Mug club membership starts on the Grand Opening date and will run until December 31st of 2016 at which time, you'll be able to renew your membership.
Memberships are good for 1 year unless notified otherwise. Inaugural memberships will be good for longer than the normal 1 year and will last until 12/31/16 regardless of opening date.
Memberships are non-transferable.
Mugs are property of Main & Mill Brewing Company and will not go home with members.
Main & Mill Brewing Company reserves the right to revoke club membership, without refund, due to refusal to observe brewpub policies.
Main & Mill Brewing Company reserves the right to change the terms and benefits of the membership program at any time. Members will be notified by mail/e-mail of any such changes in terms or benefits.